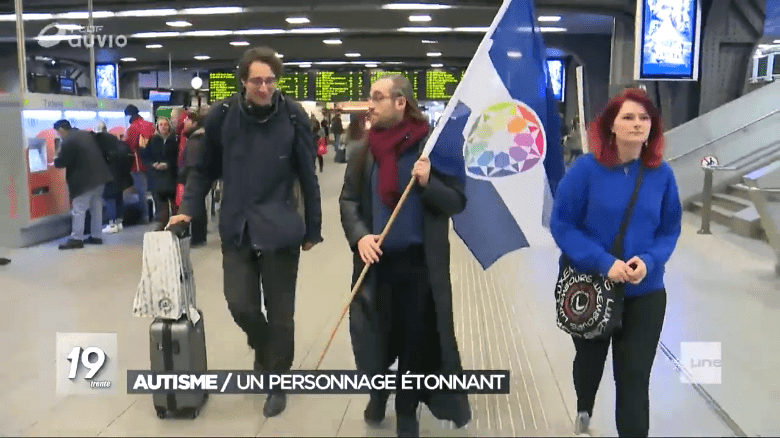 Below, a report by Belgian television (in french), on the participation of Josef Schovanec (inventor of the "Autistan" name, and sponsor of our Organization), accompanied by our Ambassador in Belgium, François Delcoux, during "Operation Blue socks", manifestation of awareness of autism, in Brussels:

Note: Contrary to what is said in the report, the Autistan is not an "imaginary" country, but an abstract concept (ie. "the mental country of Autism") which represents the "mental world of Autism", which corresponds to a reality, and not something that would exist only in the imagination.
Each autistic has a "personal mind World" that its own, but there are similarities between each autistic. Because "ordinary" (so "classic" countries) companies are struggling to accept people with autism on the one hand, and on the other hand people with autism live a lot in their "inner world", then the concept of a 'country' intangible of people with autism) corresponding to the "world of the autistic") seems logical, so that people with autism have at least "their place somewhere".
Have a place in mind "shelter" is better than nothing, and better than not having a place in a "normal" country material.
Finally, the Autistan also corresponds to the notion of "Autism nation", characterizing a category of people close by their birth.
---
---
Record amateur video of the presentation made by our Ambassador, François Delcoux, on this day
The lack of time and resources did not allow to make a recording by us (stable and near in good conditions), we still thank the author of this video, because it allows to read the explanation of Francis on autism, and particularly on the Autistan and its Organisation, at the beginning of the clip.
Thanks also to the "Autism in Action" (Facebook) association for organizing this day.
Thank you for your understanding, with respect to the technical quality of this clip.
We are trying to build and improve things, from scratch, and almost without any help. 
---
---
Small testimony of a volunteer on the Operation socks blue
This beautiful spontaneous testimony don't talk about the Autistan, but it evokes such human qualities of people with autism, with many narrowly and sincerity; that's why we had to include in our article.
Thank you very much to Mr Christophe Vander Donckt (Facebook), which supports our cause (the cause of autism in general) with so much good will and good heart.
https://www.Facebook.com/100015690127119/videos/293307857868883/